TikTok is More Popular Than YouTube and Apple Music for Discovering New Music [Study]
Highlights
60% of people use TikTok for music discovery.

More than half of people agreed TikTok influences their music taste.

73% of people believe artists should write songs that can be used as dance trends on TikTok.

47% of people believe TikTok is the future of the music industry.
How One App Revolutionized the Music Industry
In TikTok's own words, their app is the "leading destination for short-form mobile video." Their mission? "To inspire creativity and bring joy." Within their video's time limit of 60 seconds, a lot can happen. And a lot has happened, including the reshaping of the entire music industry. For artists and creators, the app has been a career changer, with even top record labels hiring from the platform.
For fans, the app has become a platform of music discovery and has helped to showcase not only new artists, but revive old ones. New songs, genres, and even tastes have emerged on a massive scale through TikTok. Speaking to nearly 1,000 TikTok users in a recent research effort, we now have a better understanding of just how music discovery works on the platform. If you're interested in how TikTok users are finding new music, what's important to them, and where they see the future of TikTok music going, keep reading.
Musically Driven Platforms
Even in the digital age, finding new music isn't exactly easy. Platforms like Spotify upload 24,000 new songs every day. But perhaps TikTok offers an easier method. The first part of our study looks at the most popular platforms for music discovery across active TikTok users.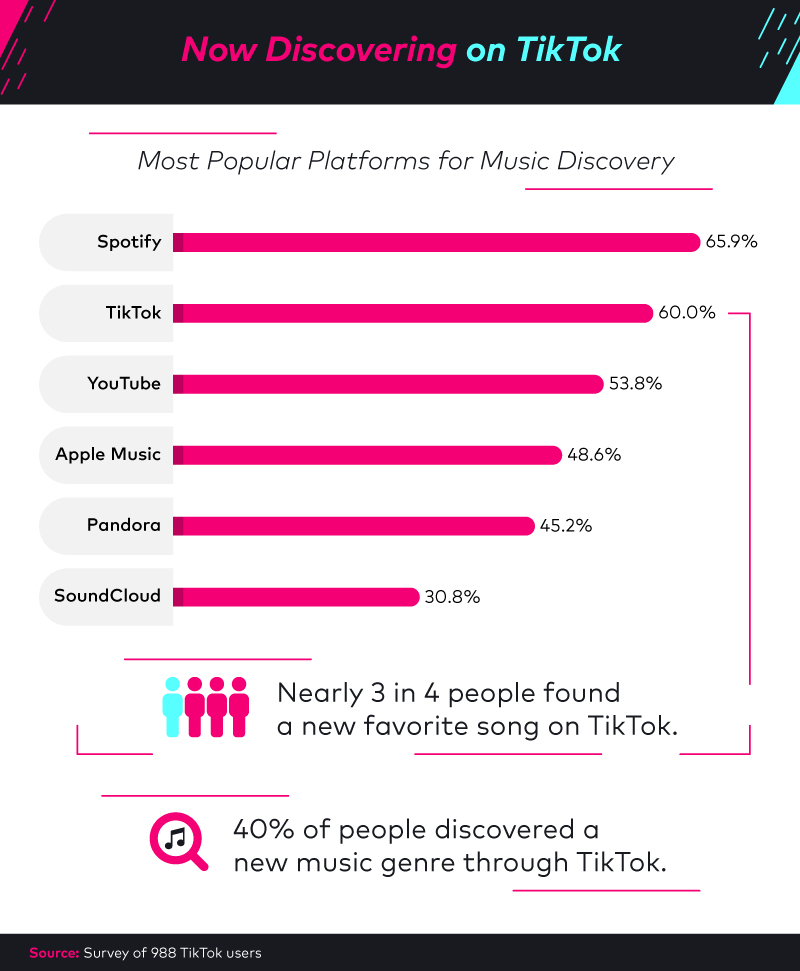 Spotify, which has 345 million users, was also the most popular platform for music discovery among even the TikTok users surveyed. Considering, however, that Spotify was specifically designed for music, it's impressive that TikTok came so close to this platform for music discovery. Sixty percent of TikTok users found new music through the app, while 66% said they found new music with Spotify. Three in 4 had even found a favorite song on TikTok, while 40% discovered a new genre entirely.
Even more impressive is the fact that TikTok was a more popular music discovery platform than many other popular apps that were also invented for the explicit purpose of music. TikTok was significantly more popular for finding new music than Apple Music, Pandora, and SoundCloud. In an era of instant gratification, the "minute to win it" concept may be very effective in finding new listeners. A listener may have to spend three or more times as long listening to a new song on a platform like Pandora.
A New Generation of Music Discovery
Within TikTok, there are multiple methods of finding new videos or, for our purposes, new music. We next asked respondents to share their top methods of music discovery on TikTok and to share which types of music they found themselves most often exposed to on the platform.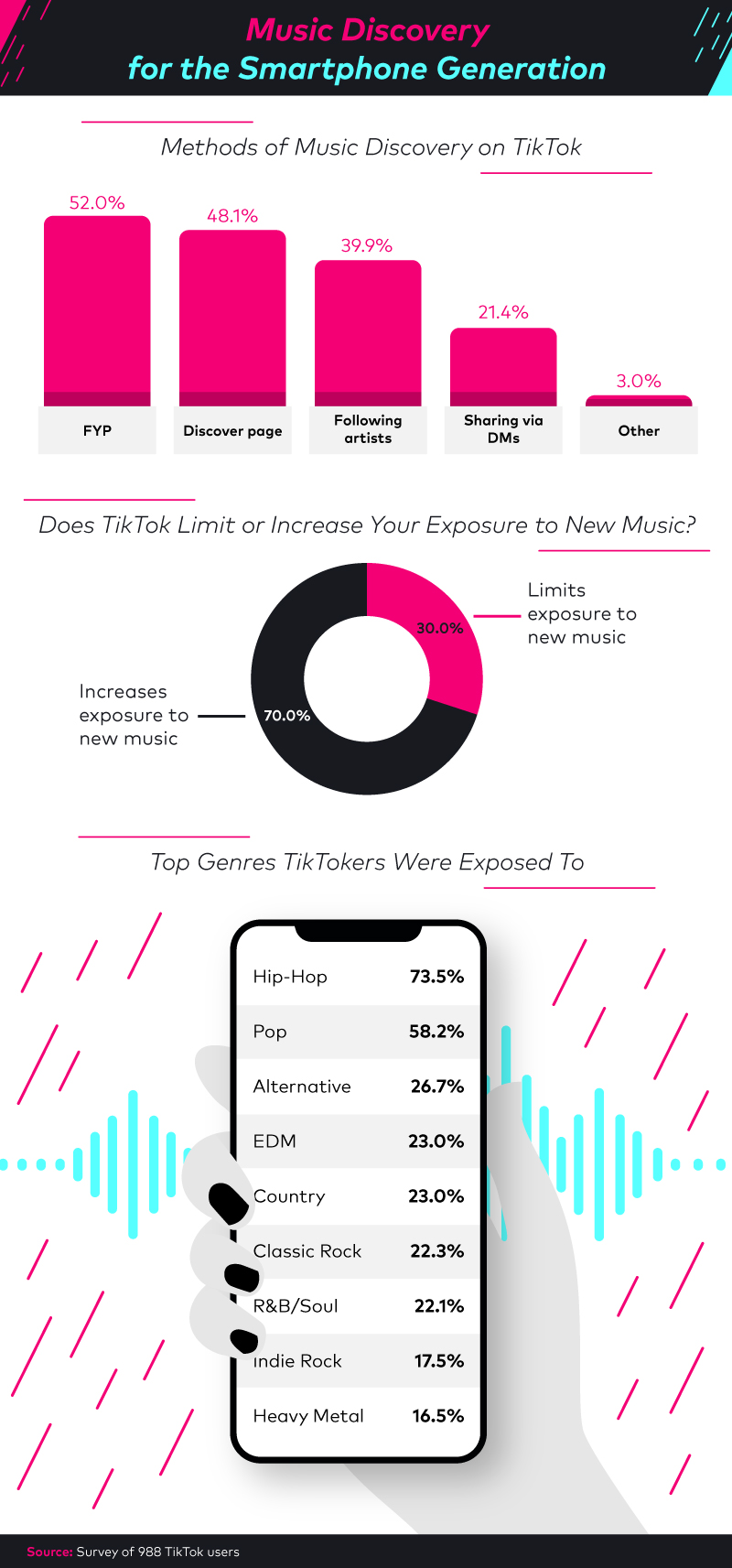 The very first page a user is taken to on TikTok is called the FYP, or the "For You Page." TikTok's algorithm essentially curates this page for you, based on your personal watch time and behavior, such as engagement. This was the most popular way for TikTok users to find new music as well. Not far behind, however, was the Discover Page. Though this requires an additional click to find, it opens the doors to what is popular worldwide, as opposed to a page specifically curated for you. Forty-eight percent of TikTok users found new music through this page.
Whatever the page, 70% agreed that the platform as a whole exposed them to new music, even if the user's intent perhaps skewed more toward comedy or dance. Most often, TikTokers were exposed to hip-hop (73.5%) and pop (58.2%). There was a serious drop-off with the next most popular genre –EDM, with just 23% of users being exposed to this music form.
Finding Fleetwood
The next piece of our study looks at a few specific trends with regards to TikTok and music. Are users satisfied with TikTok as a platform for discovery? Are they adding new songs they find to playlists? And what about the whole Fleetwood Mac phenomenon? The answers to these questions are listed below.
Finding new music on TikTok had lasting effects on the vast majority of users. When people found a new song they liked, 84% took the time to add the song to a specific playlist with the intention of returning to the music later. More than three-quarters were also in agreement that TikTok was a satisfactory platform for general discovery. Seventy percent even said there was a community around their favorite genre on TikTok. That said, certain songs were coming up too often on feeds, with 75% experiencing song fatigue on the platform.
One song that may have been particularly ripe for song fatigue was Fleetwood Mac's "Dreams." One viral video of a skateboarder singing along to this song has already been played 60 million times. This, and the many plays they inspired, was enough to propel the song to rank as a top ten album on Billboard more than a decade after it was originally released. Fleetwood Mac even recreated the video. And fans loved it: 74% percent of respondents loved that classic hits like "Dreams" were getting revitalized on TikTok.
Don't Chase Waterfalls, Chase Clout
In terms of career moves, TikTok is likely a good one. Even record labels are turning to the platform to choose new artists. We next asked respondents how important they felt it was for an artist to be active on TikTok today as well as the nuances they felt were important for an emerging artist to capture on the platform.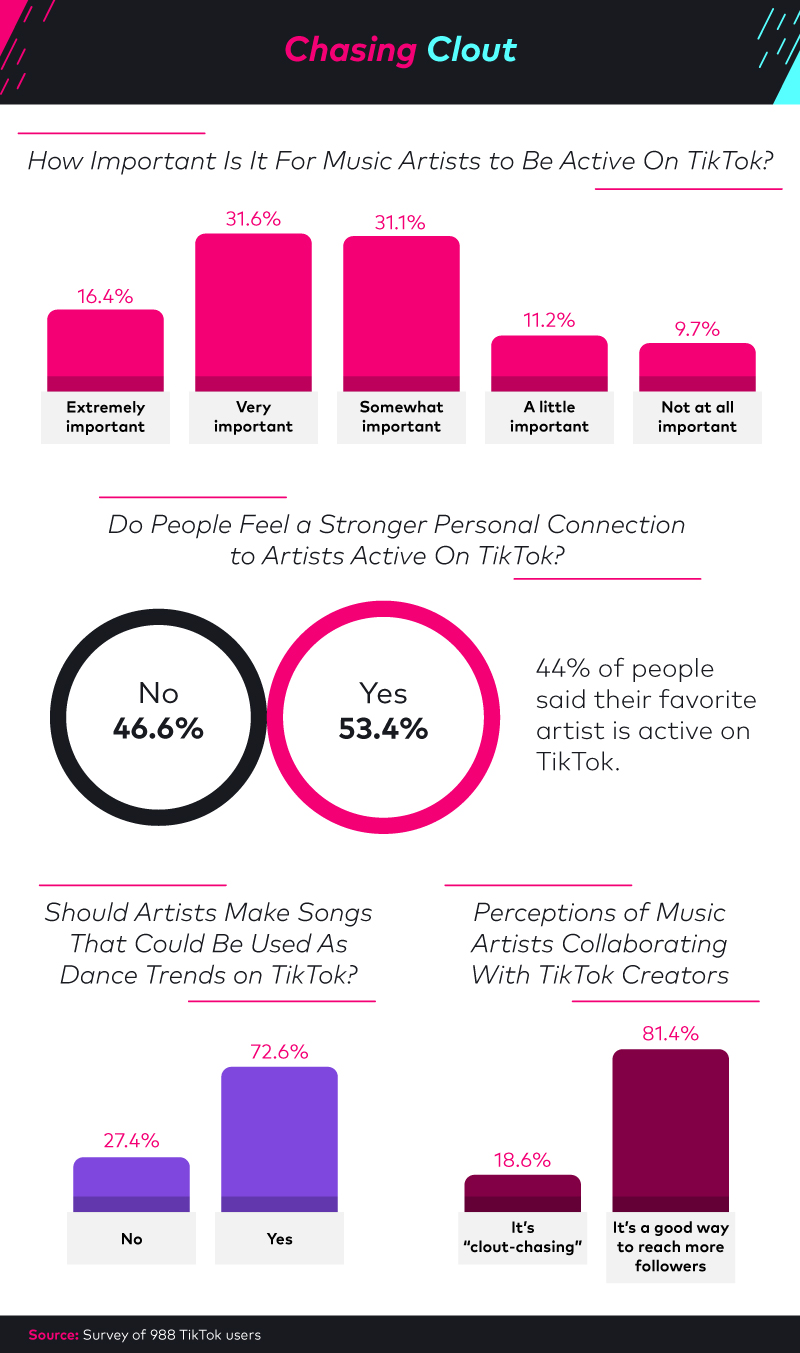 Most TikTokers agreed that it was very or even extremely important for a music artist to be active on TikTok. Especially in a post-pandemic world, when typical venues for music discovery may be off limits, this platform has become especially important. Most fans also agreed that they shared a stronger personal connection to artists available on this platform.
Then there's also the competition to consider. Most well-known artists are not actually active on this platform, giving newbies a chance to break through. Fewer than half –just 44% –said that their current favorite artists were using the platform. It appears likely then that newer artists have a stronger chance to be heard here than on something like Spotify or Apple Music, where almost all popular artists already have a stronghold.
TikTokers were also well aware of the importance of dance trends. Learning dances on TikTok was also a pandemically driven trend that drove the corresponding song's popularity as well. Seventy-three percent of users felt that artists should actually be creating songs for this trend or writing music that could be paired with a dance. This could actually introduce the song to a new type of audience or one that may not have necessarily been looking intentionally for new music, but instead a new dance.
What TikTok Tells Us About the Future of the Music Business
With TikTok already having impacted the music industry so much, its meteoric rise will certainly impact the future of the music business as well. The next part of our study looks toward this future and asks TikTokers how they feel the platform will be involved in the future of the music industry.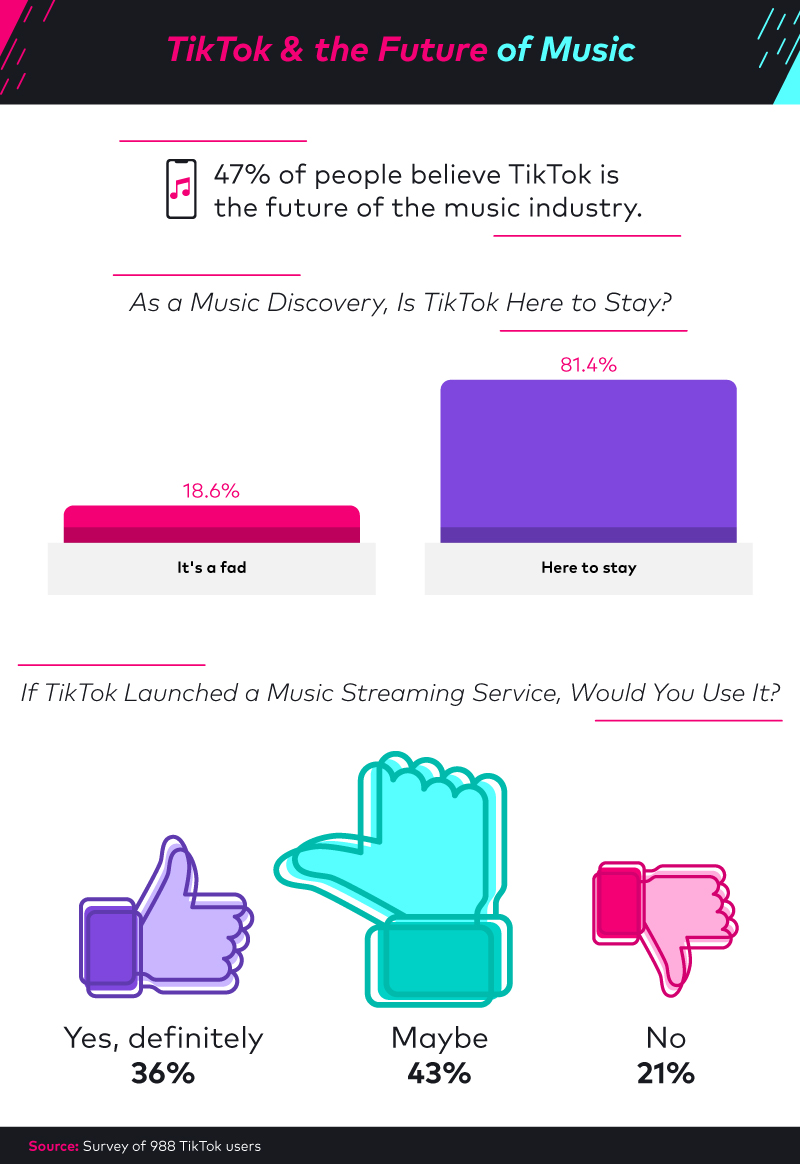 In spite of TikTok's potential influence, most users were hesitant to call it the future of the music industry. And only about a third agreed that TikTok's use as a music discovery tool was here to stay. Perhaps its incredibly quick rise to fame has more people feeling that it may be just a fad. It's worth noting, however, that many industry experts feel otherwise. They suggest this platform has given (and will continue to give) fans an entirely new way to engage with music. They explain:
"In TikTok, the key metric for measuring a song's popularity is no longer how many times people have streamed it, but rather how many users have used it to create their own videos … now TikTok is ushering in a new era where listeners get to directly participate in the creation of hit songs."
Were this new form of active listening to launch a music streaming service of its own (similar to Spotify or Apple Music), most (79%) said they would at least consider using it.
Don't Slow Your Scroll
TikTok has certainly opened new doors for the music industry in more ways than one. Not only has it provided a massive influx of listeners in a truly democratic way, it has provided those listeners with opportunities to piggyback off of that success in their own creative ways to then share again with the world. The users essentially get to become part of the artist's creative process.
The future of the music industry will likely be affected by this collaborative, creative experience. TikTok users continue to sign up, be inspired by, and even join in on the fun every day. If you're experiencing a lull in your own playlists or general creativity, perhaps it's time to turn to the platform and see what you can find.
Methodology and Limitations
We collected responses from 988 TikTok users to explore the app's influence on music discovery and taste. To qualify for the survey, respondents had to indicate that they're active on TikTok. Respondents ranged in age from 18 to 70, and the average was 33 years old. 56.2% of our respondents identified as women, 43% identified as men, and less than 1% as nonbinary. Survey data has certain limitations related to self-reporting. These limitations include telescoping, exaggeration, and selective memory.
Fair Use Statement
Discovery is an exciting emotion of its own. If you feel that you have discovered something here you would like to share, you are free to do so. Just be sure your purposes are noncommercial and that you link back to this page to provide proper attribution.