Understanding the components of a roulette table
You can enjoy a multitude of online roulette variations on your PC or Mac. But where do you start? At OnlineRoulette.org we can show you the best online casinos on the web with the widest range of roulette games.
Online roulette has a lot more variety than 36 numbers these days. As online casinos have become more sophisticated and developed, so has the array of roulette games on offer to players. Let's take a look at some of the roulette variations you'll find at your favorite online casino.
At a Glance: Online Roulette Variations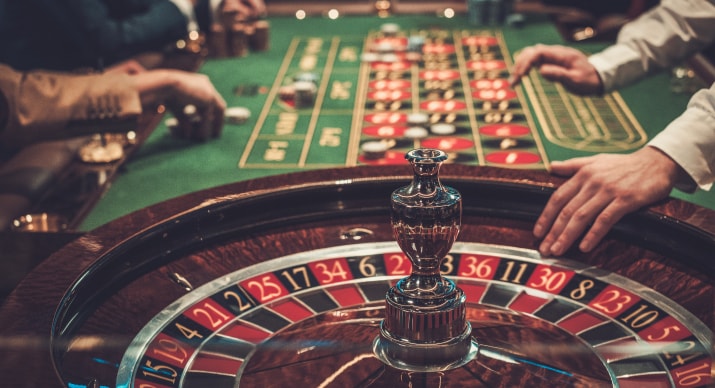 European Roulette - You can place a bet on 1-36, red or black, or even the columns. There's just the single zero in European Roulette, meaning the house edge is just 2.7%.
American Roulette – The classic Vegas variant has the extra double 0, meaning the house edge rises to 5.26%. Make sure you're aware of that before playing. The payouts, however, are potentially bigger.
French Roulette – Like European Roulette but with the added En Prison and La Partage 'insurance' bets, meaning you can get half your money back if zero lands.
Multi-Ball Roulette – Play up to three balls on the same wheel at the same time! For grinders looking to spread the action a little thinner, it's a great way of improving your long-term odds.
Multi-Wheel Roulette – If you are bored of waiting for one wheel to finish spinning, why not bet on up to eight tables at the same time? You bet on one table but every wheel counts!
Live Dealer Roulette – Bet online via the Internet, but watch a real dealer in action! That's the beauty of Live Dealer Roulette – it's a real game of roulette, with the bets placed on your computer but conveyed to the live roulette table in a casino.
Spingo – A weird mash-up of Bingo, Lotto, and Roulette, Spingo sees you place bets on various colors while numbered Lotto balls do their thing. You can bet on colors or numbers for added excitement.
American Roulette & European Roulette
Classic roulette games will follow the regular standards of 1 through 36, a single or double zero, and then options to bet on red or black and odds or evens.
As well as the odds/evens and red/black spaces for betting, the games are pretty much the same, except the addition of the 00 significantly increases the house edge in the American version. Playing European roulette puts you up against a 2.70% house edge, as opposed to American roulette's stingier 5.26% edge. Placing bets on colors or odds and evens will net you the same Even Money payout. Betting on columns of numbers - essentially a third of the numbers at one time - pays out 2/1 of your money. Payouts on a single number, however, rise to 35/1.
French Roulette
A little rarer online, French Roulette is similar to European Roulette with its single zero, but with a couple of differences. French Roulette comes with the 'La Partage' rule where if the ball lands on zero, would only forfeit half of your bet. French Roulette also comes with the 'En Prison' rule which means that if you bet on even or odd and the ball lands on zero, you'll have the opportunity to win your bet back. The dealer will place your bet in "prison" by putting a marker on top of your bet. By the time the next spin comes round, if you win, you will get it back, otherwise forfeit your loss to the house. It's an interesting variation, but one you might not find outside French-facing online casinos.
Premiere Roulette Diamond Edition
Premiere Roulette Diamond Edition uses the online casino's graphics to the max but features more colors to bet on apart from the classic red of black option. In fact, players online can choose from a number of different colors to place their bets including green, yellow, or even blue. The 1-36 numbers are still present and correct, while single and double Zero variations are available.
Multi-Ball Roulette
This game is the perfect online roulette variation for online casino goers. Multi-Ball allows you to bet on a wheel with up to three balls at the same time allowing you to bet on a bunch of numbers instead of just one, with your winnings being split by the number of balls that are in play.
Spingo
A bizarre mix of Bingo and online roulette, Spingo bet on numbers from 1 to 10 rather than the classic 1 through 36, with three different colors to bet on. Once the wheel gets spinning, numbered balls are randomly picked out, Lotto-style, which then fall into the colored trays. As well as the numbers and colors you can pick Odds and Even if you so desire.
Multi-Wheel Roulette
Generally found at online casinos powered by Microgaming, this variation of Roulette allows you to bet on up to eight wheels simultaneously.
You will still place your bets on a single board but the result will depend on the spread over more than one wheel. This means that if you were to hit the same number on more than one wheel at the same time, then you're in the money. It's a great game for getting volume in and working through that deposit bonus much faster.
Live Dealer Roulette
The beauty of Live Dealer Roulette is you can do away with any worries about casino software safety or dodgy Random Number Generators by betting on a real-life wheel from the comfort of your own home. You can place your bets on a real wheel with a real ball spun by a real dealer, all from the comfort of your own home. You can even chat to and see the dealer via your webcam. It's great for adding that human element to online roulette and takes away the sometimes cold, robotic feel of spinning virtual balls all day.
We Find the Best Sites!
We have reviewed and rated each site for quality of software, gameplay, speed, realism, and customer service. Each of these reviews is then narrowed down to the sites that offered the highest payout rates. Check out our suggested picks before playing online roulette games at any old site. Click on a link, download a client, and enjoy a top real-money bonus today. You can check out even more online casino guides here.